I want to change my default black background to white for a specific show. I'm sure this has been mentioned…but…
Hey @pschwepker.
That setting has been missing in version 4, but I went ahead and added it just now.
You'll find it under your show's "Settings" tab. If you don't see it, just refresh your browser and the new update should automatically load.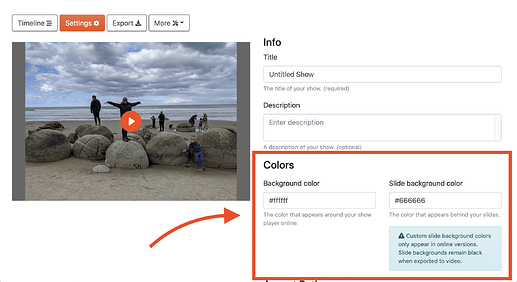 For now, you'll have to enter the Hex code for colors. White would be #FFFFFF.
After entering the code, scroll down and hit "Save Changes", then click the "Link" button to see your show in the player.
At the moment, these custom colors only appear on the online versions. If you need to modify the colors in the exported MP4 files, let me know and I'll take a look at the video exporter system on Monday. (Update below …)
joe
I went ahead and updated the video exporter to use the slide background color as well.
Give a go …
joe