This week I'm working on a new "Library" device for shows.
I've been struggling with how to best present the image and audio uploading user interface. I've settled on it being a two step process, drawing on the way that the "old" desktop-based Soundslides worked … in that you would select your images and audio via separate clicks of a button.
I've just released the latest version of the UI.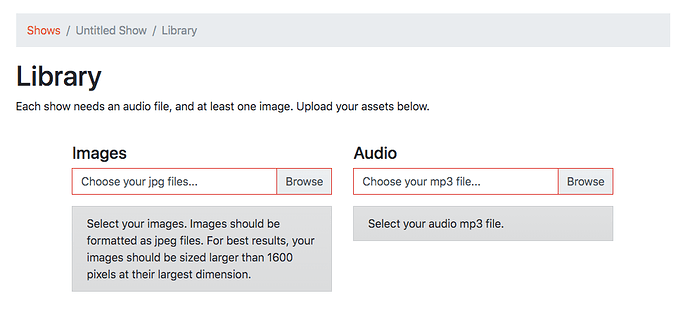 You can see this new interface if you create a new show.
After selecting your images, you'll see a button for uploading. This will hopefully resolve some of the confusion reported by some users. There were reports of not knowing where to start when uploading/importing.
After uploading the assets, there's a new dialog for starting your timeline edit.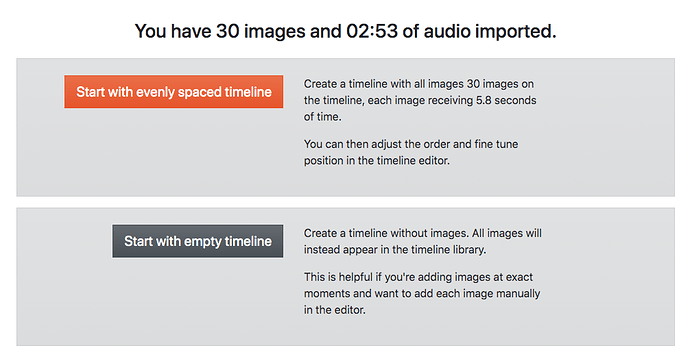 Basically, you have two choices. You can start with a timeline with all your images evenly spaced out. Or you can start with a blank timeline.
Advantages to starting with a timeline with all images evenly spaced out:
If you're syncing to music or ambient audio, this might be all you'll need.
If you know you want an exact speed (eg, each image gets 4 seconds), then all you need to do is import the correct number of images.
Advantages to starting with an empty timeline:
• If each image should correspond with an exact moment on the timeline, it might be easier to manually insert the images as you listen to the audio in the editor.
The less "evenly spread" your desired edit is, the more time you'll save by manually adding the images to your timeline. (To manually add images in the editor, right-click on the thumbnail and select "Insert at current time")
This is all a bit abstract to explain, so please give it a try and let me know what you think.
I should have another Library-related update by the end of the week.
Thanks!