I'm under a tropical storm watch at the moment here at home, but there's nothing left to do prep-wise … so might as well post about the week's happenings in Soundslides-land.
New overlay inspector in the Timeline editor
The overlay inspector was in dire need of an update. It's up now. It has all the same attributes as the previous interface, but it's now responsive and easier to read and update.
Here are some screenshots: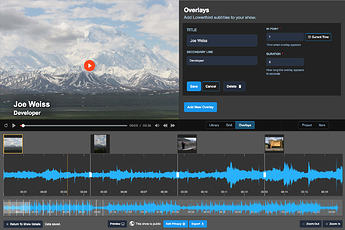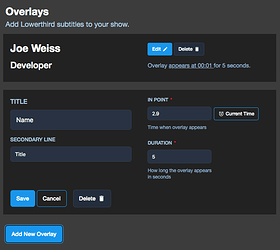 The application is currently limited to just one form of an overlay (a lowerthird type), but I plan to add more in the future. If you've got an idea for an overlay type (a title slide version seems practical), leave a comment below.
Trial limits activated
Now that the application is out of beta testing, it's time to put some practical limits on the trial accounts. Everyone's trial starts today no matter how long you've had an account. It's a 14-day trial with a limit of 5 shows. I'll adjust this as needed, and if you need more time reach out to me via email (joe@tungite.com) and I'll extend it for you. As I said previously, it's tough to decide on pricing tiers and to limit access for non-paid accounts. But tiers are necessary to pay the bills and keep the endeavor moving forward.
Dorian
We're in the forecast path of Dorian now. I'm not sure how much more we'll get done this week. I'll post a follow-up if needed. Stay safe everyone.