It's the last working week of the decade here at Tungite Labs, so here's the final update changelog.
Subscribers can now export to 1080p video files.
We enabled this new option slowly over the last few weeks to see how it affected wait times in the video processing queue. I ended up doubling the capacity of the export servers so your conversion time should be a wee bit shorter than with the previous 720 size. From your show's export page, select the "1080p" option to give this a go.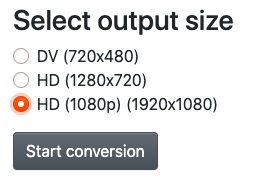 You can now remove images from the quick grid. There's an "X" button in the upper left of the thumbnail on rollover. (On iPad, you click once to see the "rollover", then click the X button).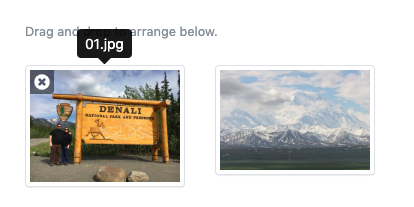 More zoom space on the timeline viewer for long shows
If you are making "lecture-type" shows (long audio, with relatively few images), then the timeline could get a bit tight as the timeline was limited to viewing roughly a minute of audio at a time. We've expanded the zoom setting on long shows to now support a much higher setting. Click the "Zoom out" button in the lower right to experience the full zooming abilities.
Better handling of non-standard mp3 files
This is one part bugfix and one part new feature. We're now re-encoding mp3 files if your selected mp3 file is not acceptable on all major browsers and devices. Previously, we only re-encoded mp3 files if the file was in a format that was incompatible with the Soundslides player. This change will help catch some of the device edge cases, mostly related to mp3 file formats that were incompatible with some Android versions.
There's now an improved interface for modifying your subscription renewal preferences.
By default, your account is set to renew at the end of your current subscription period. You can disable the renewal by clicking "Disable auto-renew" button available at your account page.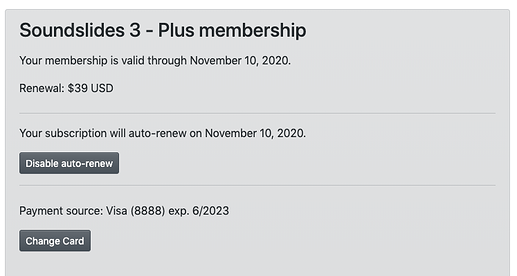 If you change your mind, you can re-enable the auto-renewal with the same interface.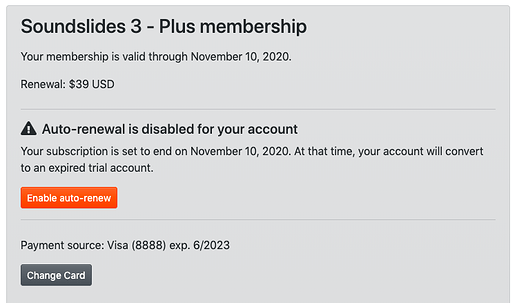 Thanks for a great year!
At the beginning of this year, I didn't know what the future held for Soundslides. It took two days just get email turned back on after the old company went out of business. I had my doubts …
I'm glad it was able to rise from the ashes over these last 11 months. Soundslides still has a lot of life left in it, and be on the lookout for some exciting new features in 2020. A small hint about what's coming … there's gonna be a lot moving around here pretty soon.
-joe